CULTURAL HERITAGE SITE SURAT – SURAT FORT AND MUGAL SARAI
Surat is one of the fastest growing cities of Asia. It seems as Surat, is gaining popularity in the recent past in areas of city development, cleanliness, business and trade. However, the history of Surat is richer than it is known for. Surat flourished in the 16th century, equally as it is in today's time. Surat Fort (Quilla) is one of many heritage sites in the city, which whisper the story of the past silently. You must need good ears and some peaceful time to know and feel the richness of the history of Surat.
SURAT CASTLE | SURAT FORT | HERITAGE SITE
The Surat castle is one of the ancient monuments of 16th century existing in the city and bears a significant relevance to its history. However, such a great fortification built to provide the citizens of Surat with an adequate defence against the attacks of the invaders seems to have been forgotten from the minds of the present generation. The Ahmedabad king Sultan Mahmood-III (1538-1554), who was very much annoyed by these frequent destructions of Surat, ordered for building a very strong castle and entrusted the work to Safi Agha, a Turkish soldier who had been ennobled with the title of Khudawand Khan. The work of building the castle was completed in 1546. (source SMC)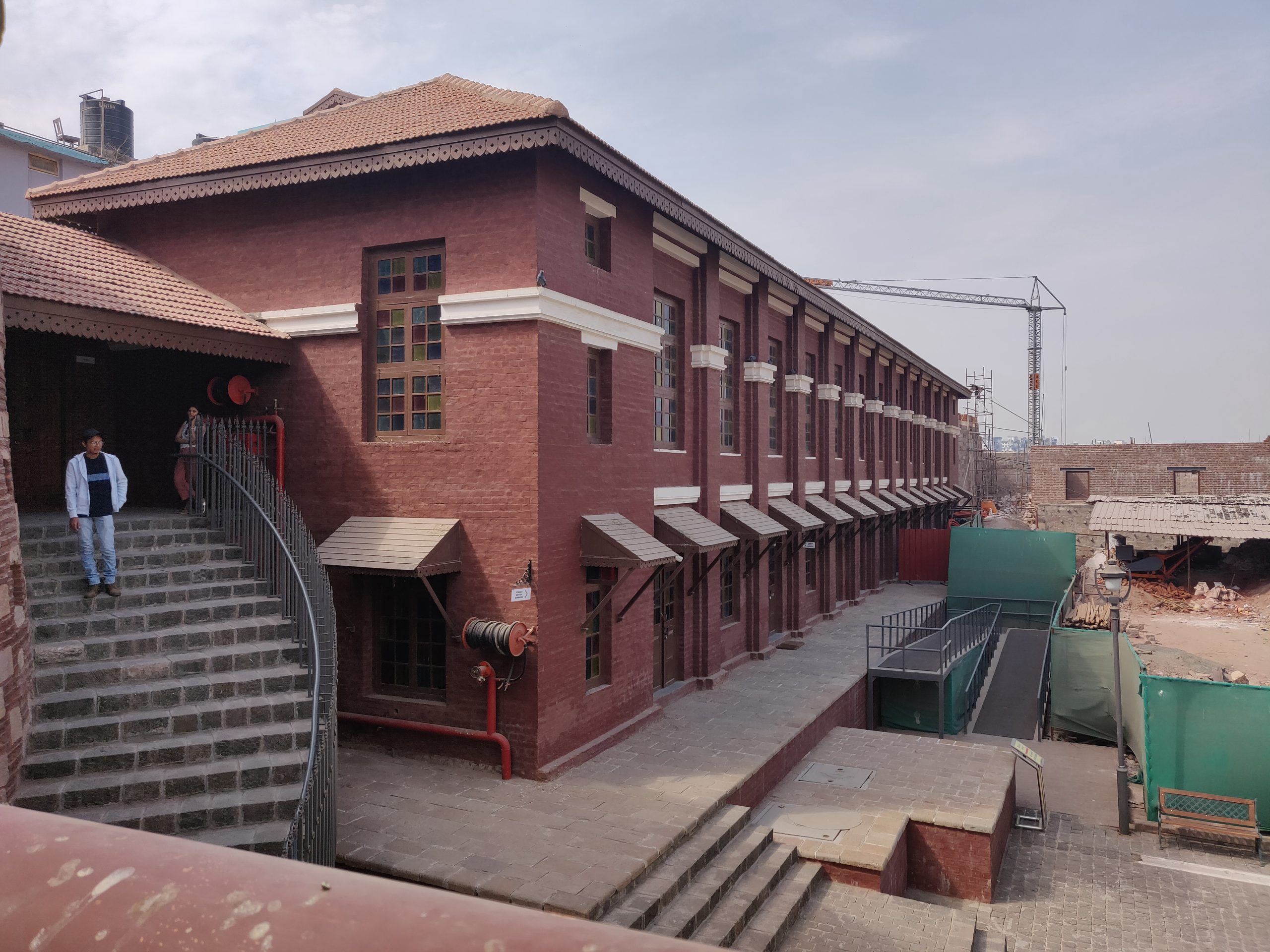 The height of the Fort wall was 20 yards and 15 meters wide at each corner there is a large round bastion having 12. 2 meter height and the thickness of the wall was 4.1 meter
Restoration work carried out by Surat Municipal Corporation is going on in full force. Currently the Castle is open for public, with it's new redefined look and most of the Castle work is completed.
Various Galleries in the Fort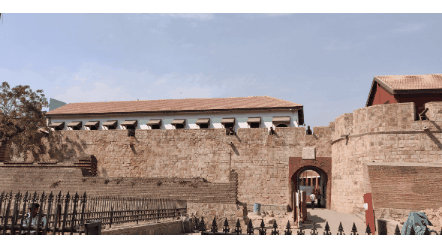 Vault

Most stunning find during the restoration process was secret vaults descovered inside the fort. It has a ventilation system through which cold air enters from the bottom and hot air evacuates from the top of the room. It is designed in such a way that these tunnels are not visible from outside.
Gallery of Surat Archives

In this gallery, historical maps of Surat, timeline of history of Surat and Surat Fort, alteration made in Surat Fort at various time is depicted by various maps, maritime history and various other process of conservation and restoration is narrated by various penal in this gallery. Throne of last Nawab of Surat, Nawab Afzaluddin Khan along with other accessories, model of proposed Heritage Precinct and write-up on various personalities of Surat are represented in various penal in these galleries.
British Life Style Room and Travellers to Surat Gallery

This gallery has been arranged in such a way that visitors can visit and feel the life style of British people of 17th to 19th century through arrangement of replica of furniture and crockery of that time. Apart from that penals have been exhibited on various visitors visited Surat from 15th century, details on them, their lifetime and what they have wrote about Surat.
Rampart

In this part of Fort, one side of the wall was built during Sultanate period and other side of the wall was built during the British period. Here in all the windows and doors are giving effect of stained glass which was used in the bygone time.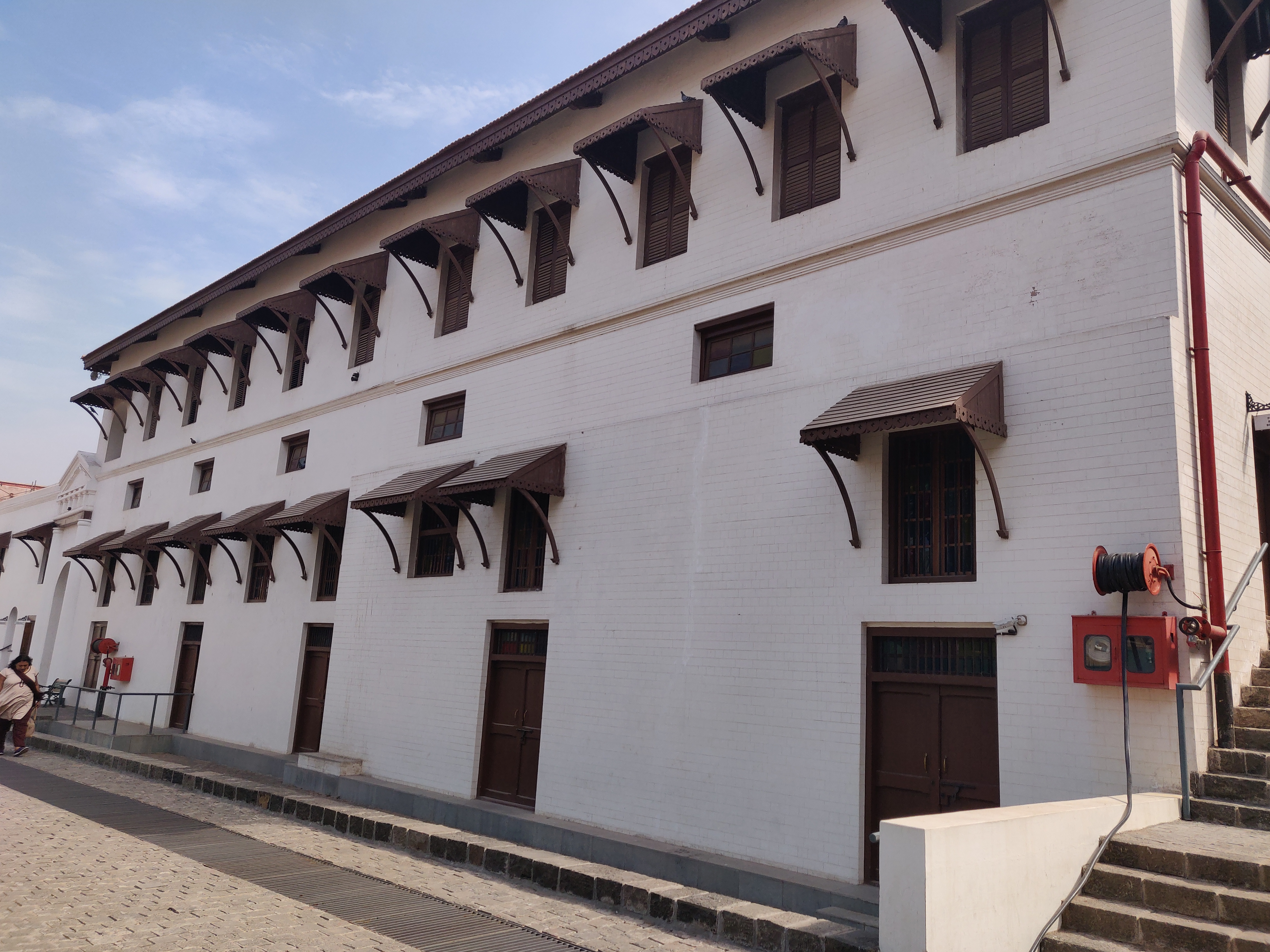 Bastion

This bastion has been restored extensively as its dome was long ago destroyed, it was severely affected by the vegetation and roots of trees penetrated deep into the flooring. The bastion also had water channel to flow hot water inside the hammam and drain cold water outside, all these water channels have been restored and is visible to visitors. The fallen off dome has been restored following the same construction technique of Sultanate style, and painted fresco in abstract style depicted Surat city, Tapi river, fortified wall and its gates.
Dutch Life Style Room

During the Restoration process while removing various layers of plasters from walls and removing falls ceiling, the construction pattern was found in Dutch style, to showcase the Dutch life-style, this portion of the building has been converted into the Dutch Life-style Room, so that visitors can feel the life-style of Dutch people from 18th-19th Century. Replica of various furniture, ceramic-ware and specially designed floor tiles adds charm to the section.
Court Room

While restoration process was going on, the structure revealed that this place may have been used as court of justice. After restoration the section has been converted as Court-room, with judge table and chair, accused and witness boxes, writer's chairs and table as well as benches for visitors to get the actual feeling of active court-room.
Trade Gallery and Jail

Trade gallery and Jail portions were restored by maintain jack-arch roof, wooden roof along with wooden and specially made floor tiles. These portions are now having display of Surat minted coins, trade commodities, trade jars, British ceramic wares etc.
Mughal Gallery

On the ground floor during the restoration process while strengthening the foundation of building some excavation work was carried out. During the excavation few stone cannon balls in different sizes were discovered, along with it some cast iron cannon balls were also found, out of which some were solid, some with holes and some with ram road were discovered which are displayed here. Apart from these finds, few terracotta pots were found too, which are displayed here, too. There after a carved marble seating area is developed by replicating famous Mughal style, few replica of wooden rum barrels, chest are also carved from wood an displayed in this section. At last in the Armenian Gallery, tomb stones inscribed in marble are displayed.
Ticket Rates and Timings of Visit
Timing for Visit

Tuesday to Sunday 10:00 am to 06:00 pm
Ticket Selling Timing

Tuesday to Sunday 10:00 am to 04:50 pm
Tickets

3 Years to 16 Years       Rs.20/-
17 Years to 60 Years     Rs.40/-
Above 60 Years             Rs.20/-
Photography                 Rs.20/-
Videography                 Rs.100/-
The Fort remains closed on every Monday and few National holidays and major holidays like Dhuleti, Diwali, Uttarayan, Anand Chaudas etc.
Transport
Bus

Frequent buses from Surat Railway Station run on this route to Chowk Bazaar. Bus No. 106, 107, 108, 127, 137 run on this route.

Auto

You have to get down at Chowk or Chowk Bazaar. It will cost you around 15-20 Rs in a shared auto (3km).
MUGAL SARAI | HERITAGE SITE SURAT
Mugal Sarai ~ Mughal Sarai, the Building which is used at present as an office complex by Surat Municipal Corporation (SMC) is one of the ancient monuments of Surat city and was built originally as a 'Sarai' or Musafarkhana (travellers' inn). It was built during the period of Mugal Emperor Shah Jahan in the year 1644 A.D. and was popularly known as 'Mugal Sarai'. During 18th century the same building was used as jail. Since 1867 the building was occupied by the present corporation.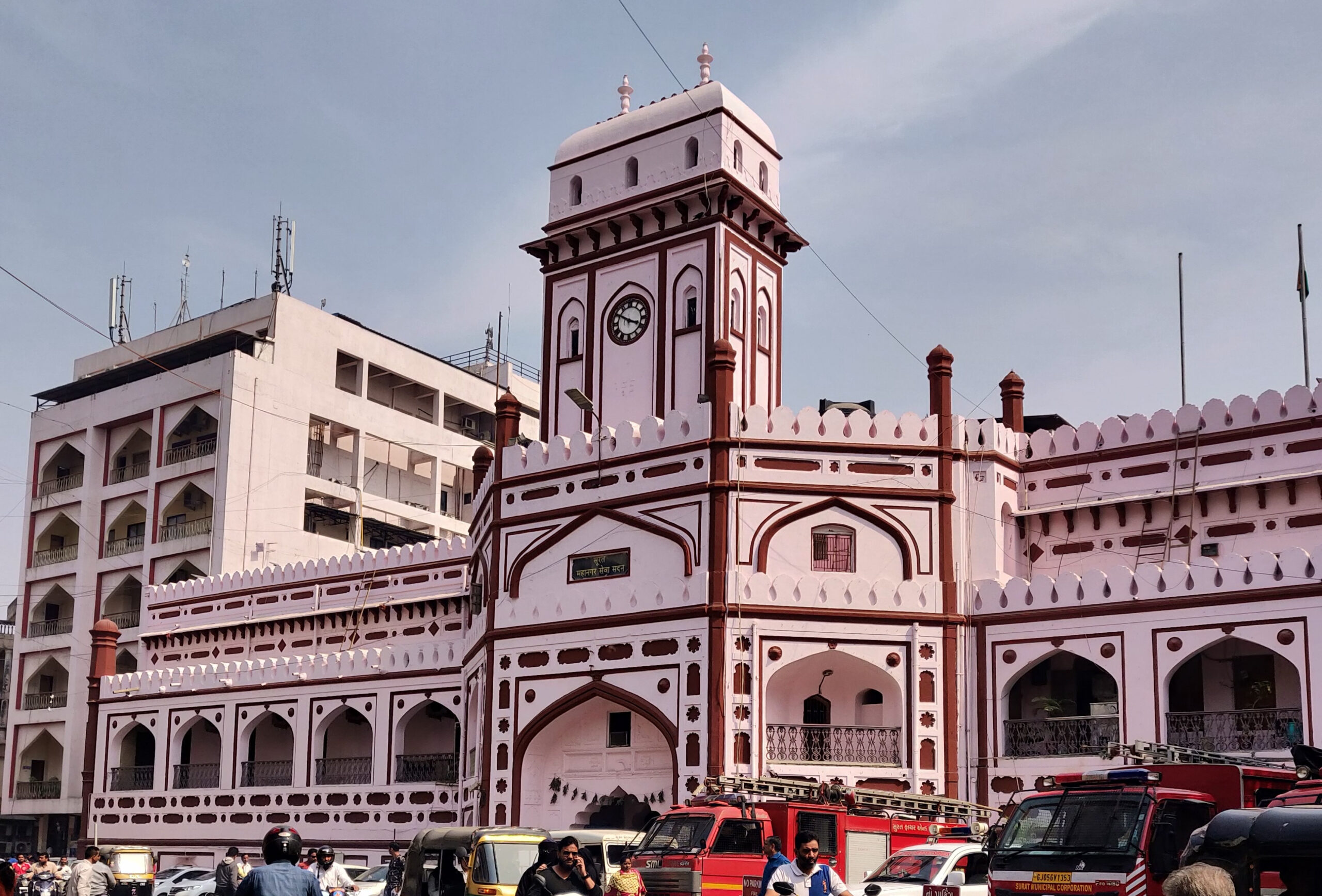 This building with its considerable architectural qualities as disposed by the skilful composition of its various parts combined with harmonious combination of arches, cornices, decorated parapets, sculptured patterns on the exterior facade etc. each being disposed in an artistic and effective manner upon a sound foundation with coherent strength is still intact and is in a very good state of preservation. Yes.
However, some changes are made lately in the original building but due care is taken so as not to harm the overall harmony of the structure. The central courtyard which at present is used for parking vehicles of the employees of the corporation still have huge trees in it hosting a wide variety of birds, giving it still the same touch of nature which it would have once enjoyed.
HISTORY
The Building which is used at present as an office complex by Surat Municipal Corporation (SMC) is one of the ancient monuments of Surat city and was built originally as a 'Sarai' or Musafarkhana (travelers' inn). It was built during the period of Mugal Emperor Shah Jahan in the year 1644 A.D. and was popularly known as 'Mugal Sarai'.
The detail description about the sarai was inscribed on two marble stones each 3.65 m long which were being placed at its entrance gateway itself till middle of the 19th century. But later on they were negligently dumped in one of the rooms of this sarai and were left unattended for quite long time. Thanks to the efforts of Mr. A.D. Banerjee; an officer of Archaeological Survey of India, that these inscriptions were transferred to the Prince of Wales Museum of Bombay in 1929 and history of Mugal Sarai could thus be preserved there.
The description was inscribed in the Arabian script by Mohammed Amin of Mashahad, the translation of which was published in 1925-26. According to these inscriptions it was stated that though this building was built as sarai during the rule of Emperor Shahjahan in the name of Almighty Allah it was in fact believed to be a heaven during those days. In the last line of the script the year of construction of the sarai was also mentioned.
The instructions regarding the usage of this sarai were inscribed in small sized letters in the margin space of the article. It was mentioned that no rent shall be levied from persons like learned scholars, and pilgrims going to Macca and Madina and any other sacred or religious individuals intending to halt in the sarai, and the allotment of rooms to the soldiers in this sarai shall be strictly prohibited.
It was also instructed that the income from rent charged to the travellers other than those specified above shall be used for maintenance and repair of the building; wages of watermen and sweepers; purchasing fodders for animals, and rest of the income should be donated to the pilgrims going to Macca-Madina.
This sarai was built by Eshak Beg Yazdi who was initially a chief guard for the family of Begum Mumtaz Mahal and was later on appointed as a leader of the fleet of about 1000 horse-riders. He was honoured as Hakikat-Khan in 1673 and was since then popularly known by that name only.
The Emperor Shah Jahan used to give the entire revenue earned from the Surat port to his daughter Jahan Ara in order to meet her daily expenses. The management of this income was being done by Hakikat Khan who also became the chief officer of the Surat city from 1640 and during that tenure itself he built this sarai (1644). It is said that he had built it on the basis of same planning principles as that for sarais of Esfahan.
During the period when this building was in the charge of Britishers it was utilised for storage of military weapons and also as a prison at later stage.
On 23rd April 1852 Collector Rozers incepted the Surat Municipality with its office in the building of Head Post Office, Nanpura.
Later on the Mugal Sarai was handed over by the government for using as a Municipal Office complex in the year 1864 at the instance of the then President of Surat Municipality Mr. T.C, Hope and it was then renovated at a substantial cost. The clock tower at its entrance was added after this only.
The offices of Surat Municipality were shifted to this monumental building in the year 1867. Since then it is used for the same purpose by SMC and the area in which this building is located is still known as 'Mugalisara'.