TOURIST ATTRACTIONS IN SURAT – PLACES TO VISIT IN SURAT
Some of the top attractions in Surat, which you must not miss if you are planning to visit Surat or if you are a Surti go take a walk around the city to see the new look.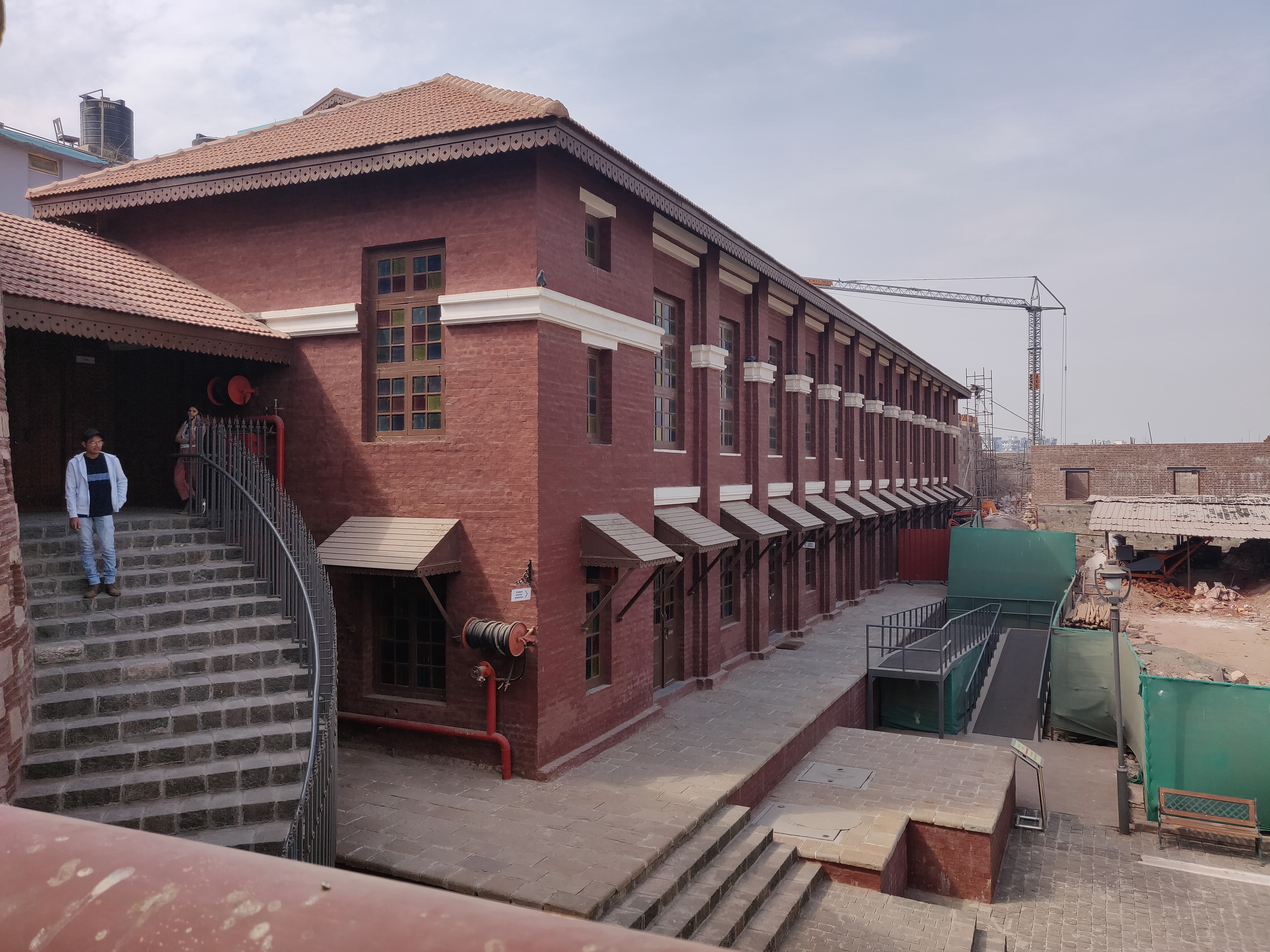 Surat is one of the fastest growing cities in Asia. Known for it's Diamond and Textile businesses, Surat is rapidly growing in other sectors like Infrastructure, Technology, Innovation, Cleanliness, Urban development to be pioneering in the field of Smart Cities in India.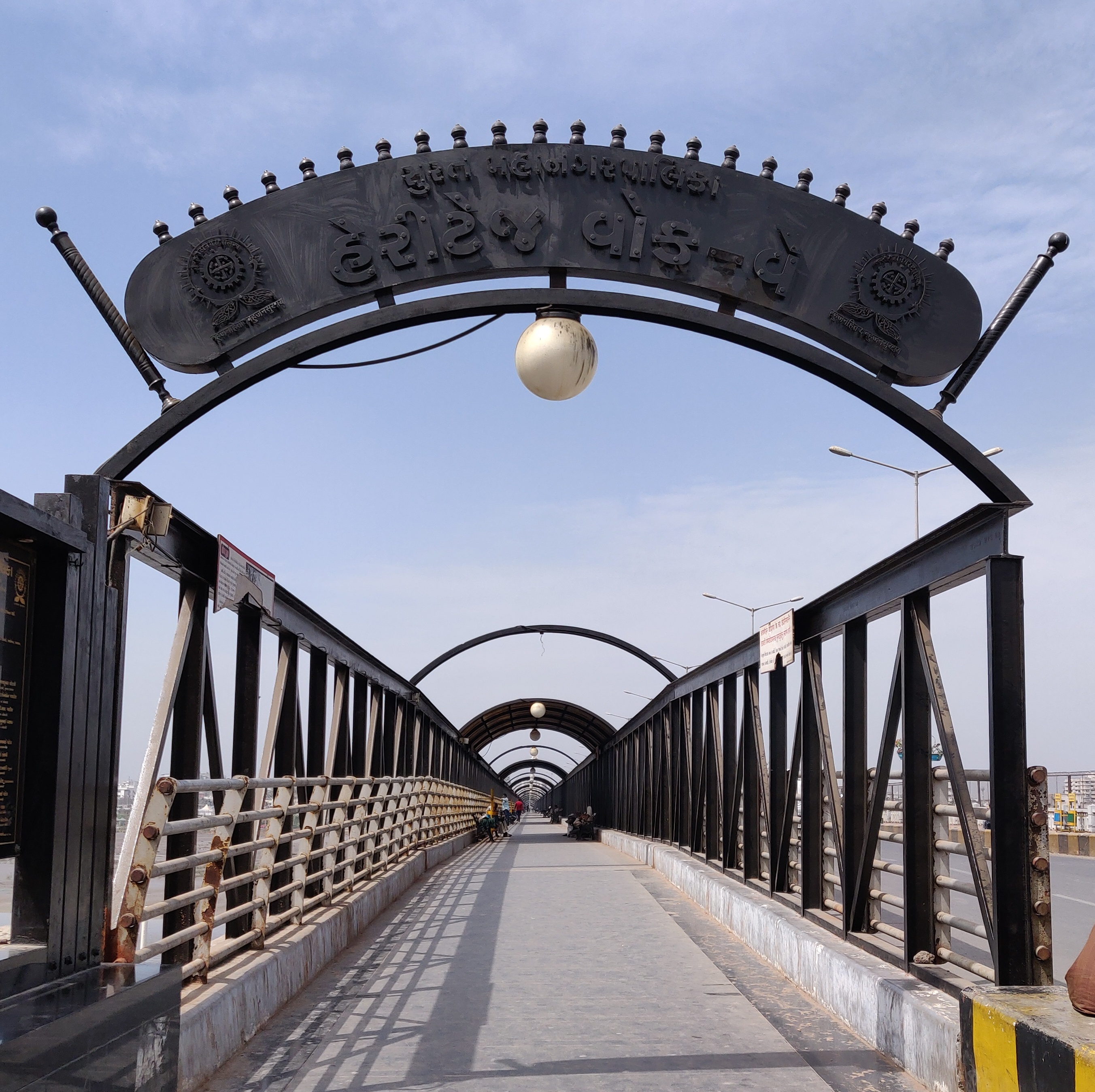 Along with city development with continuous efforts from Surat Municipal Corporation in all areas, Surat is re-defining it's new face in the modern world.
HERITAGE
Surat Castle | Surat Fort
Gopi Talav
Dutch Cemetary
Narmad House
Clock Tower
Andrew's Library
Hope Bridge
Mugalsarai
TEMPLES
Ambika Niketan Mandir
ISKCON Temple
Swaminarayan Mandir, Adajan
Bada Ganesh Temple
Aaspass Dada Temple
Galteshwar Mahadev Mandir
Dada Bhagwan Mandir, Kamrej
MODERN
Sneh Rashmi Botanical Garden
Surat Municipal Aquarium
Narmad Library
Science Centre
VR Mall, Surat
Tapi River Front
ADVENTURE
Amaazia Water Park
Snow Park, Rahul Raj Mall
NATURE
Dumus Beach
Ubrat Beach
Sarthana Nature Par
AASPASS DADA MANDIR | TEMPLES IN SURAT
Aaspass Dada Mandir is located in Godadara, towards the far end of Surat city outskirts in the South East Zone. It is a very popular temple in the locality.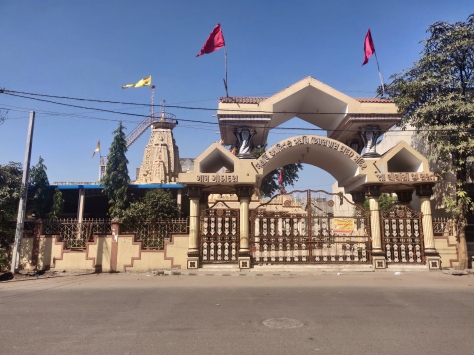 Every year Aaspass Mela, an exhibition cum fair is organised in a ground near by the temple, where thousands of devotees and visitors come to see the grandeur celebrations and buy households and decors. Celebrations begin during the week of Diwali vacations in schools and offices. Usually held in October or November every year.
How to Reach
Bus

Regular buses run from Surat Railway Station (Bus No 254) and Chowk (Bus No 204) to Aaspass Temple. Surat SitiLink buses (blue color buses) are a bit crowded towards this route. It will cost you around 12-15 Rs. Buses will drop you right out the entrance gate.

BRTS

Take a BRTS bus towards Godadara and get down at Aaspass Dada Temple Stop. You can alternatively come to Vishvakarma BRTS Junction on canal route and change to Godadara.
Nearest BRTS stop is Aaspass Dada Temple BRTS. You will have to walk for about 5 minutes to reach the temple.

Auto

You get shared auto-rickshaws from Surat Railway Station for about 20 Rs. You can take a direct auto, which will cost you around 100-150 Rs depending on the time of day and your bargaining skills.

Online Cab booking

You can try to book Ola/Uber online, however most of the times you get a cancellation/over charge request by the drivers as the commute to this area is very less. Plan your journey accordingly.
Below is the location on maps for your ease of navigation and planning.
ANDREW'S LIBRARY | HERITAGE SITE SURAT
Andrew's Library is one of the many libraries in Surat, but it dates back to 1850 when it was constructed, which makes it unique piece of history, architecture and knowledge. It is named after Andrew, a retired magistrate during that period. Rao Bahadur Naginchand Jhaveri, a wealthy pearl dealer who often contributed to the development of the city, helped in co-establishment of Andrew's Library.
Andrew's Library is situated in Chowk area, Surat. It is near the edge of Tapi river and opposite to the entrance of Surat Castle. Library was established on 1st July 1850. The first president of this library was Mr. Alexander Kinlock Farbers.
During the 2005 floods, entire Surat City was submerged in water. Places surrounding Tapi river, were severely impacted. One of such impact was seen on Andrew's Library. As per the records, it is said around 25000 artifacts were lost or destroyed due to floods. It was such a huge loss.
Currently it is run by a group, who are working on restoring the premise as well as working to digitize the artifacts. We asked for a walk through the premise or a talk over the history, but currently they are not available for public demonstration. They asked us until the restoration work is completed. However you can look at the mesmerizing beauty and detailed craftsmanship of those time from the outside.
LIBRARY TIMINGS
Tuesday to Saturday
Sunday
Library is closed on Monday.
SURAT CLOCK TOWER | ATTRACTIONS IN SURAT
Surat Clock Tower is going to complete 150 years of construction in 2021. Yes it is one of the oldest monument and architectural piece in the city of Surat. It was constructed in 1871 by Khan Bahadoor Burjorjee Merwanjee Fraser at the cost of Rs 14000 in the memory of his father Merwanjee Hormusjee Fraser and for the convenience of the inhabitants of Surat. Standing at around 80m high, it is one of the tallest structure in the vicinity even today.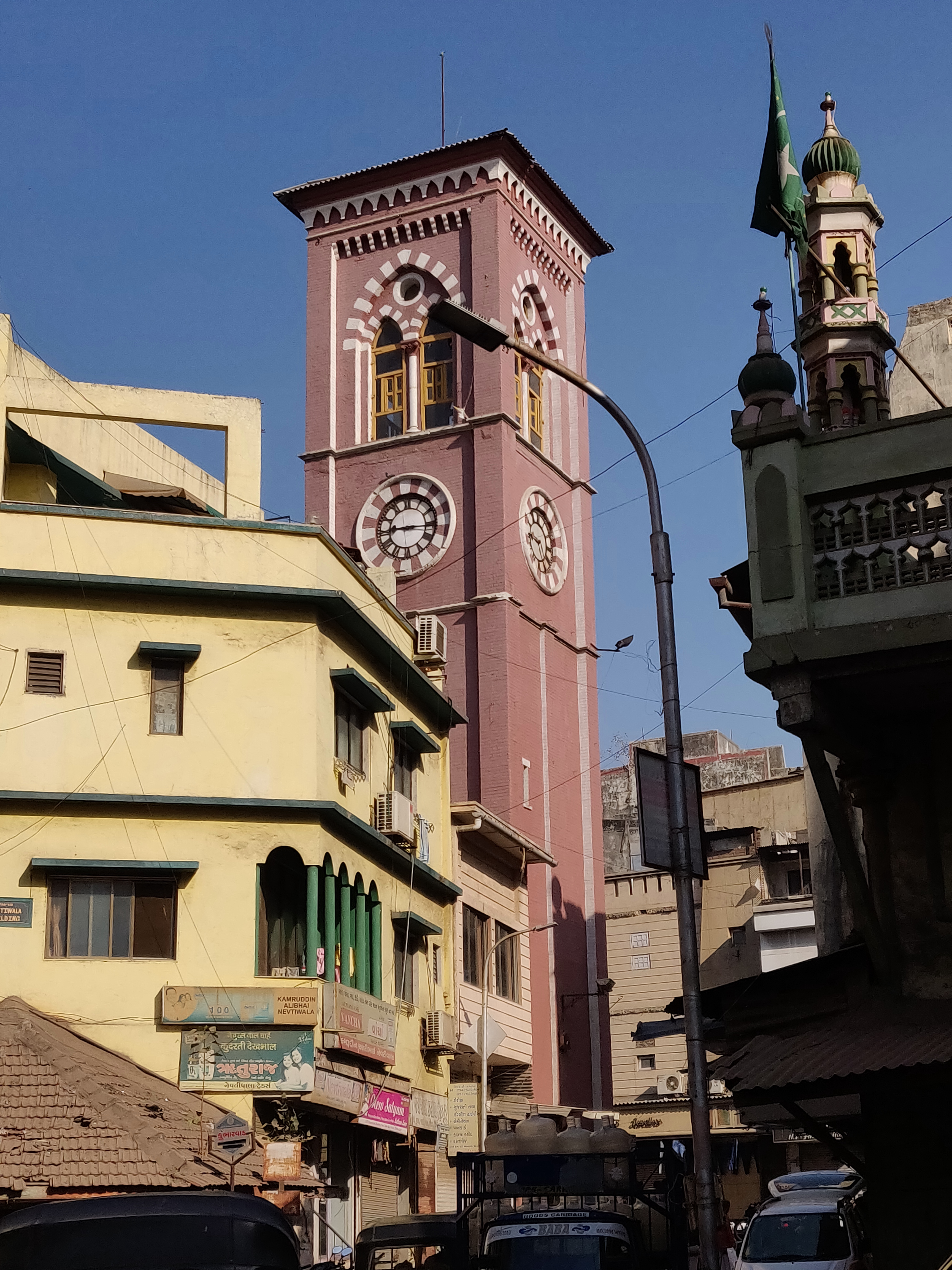 Currently it is not accessible for public to go inside but however the outside view is mesmerizing and makes you wonder about the Craftsmanship and design of the clock that is visible from corners even today. It is one of the first thing you will come across while travelling from Surat station towards Bhagal, a popular shopping area. The glazing beauty of clock tower makes you want to keep looking at it from various spots.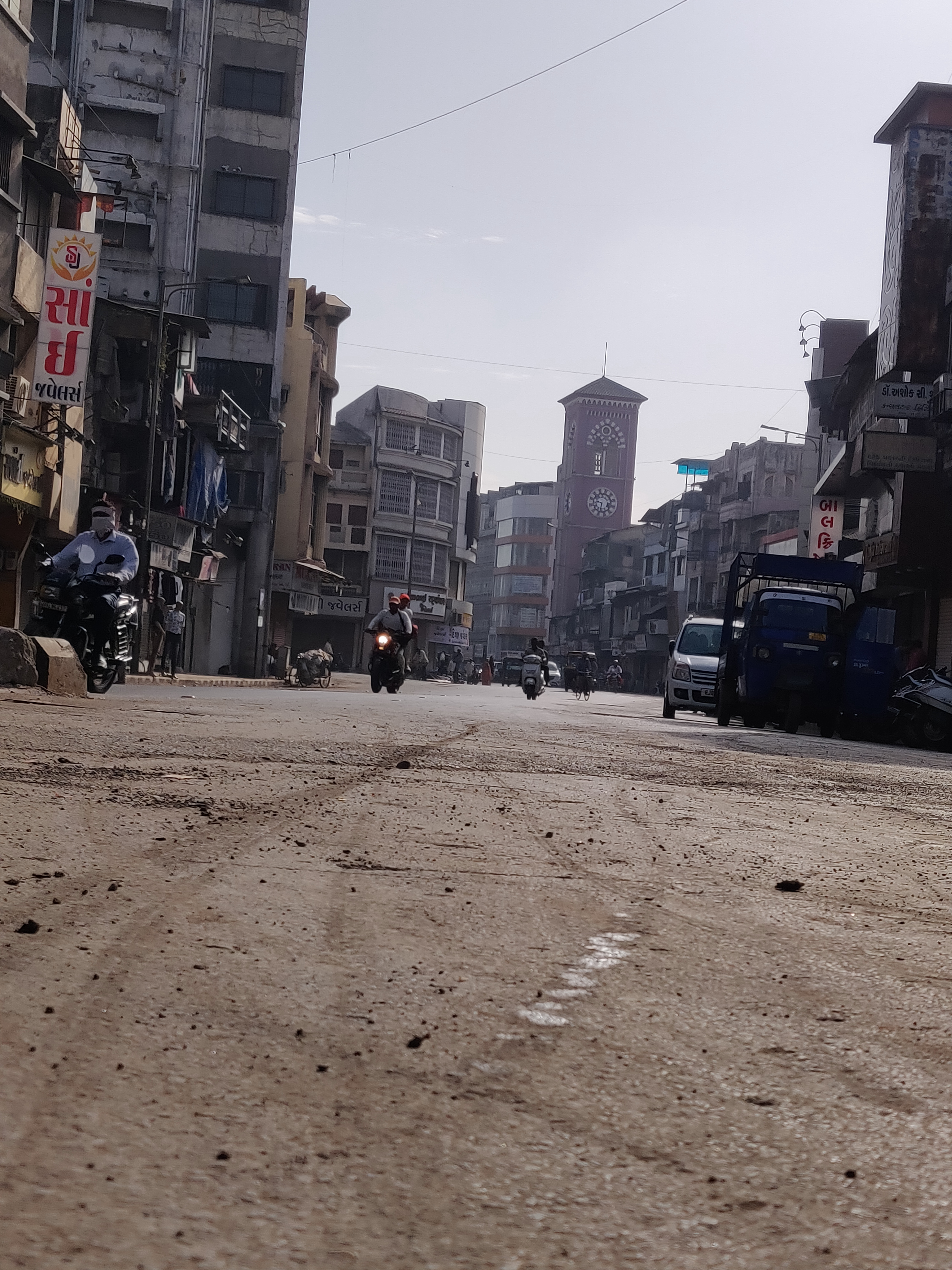 The clock is in perfect working condition, unfortunately only a few realize that the clock is of such old history.
GALTESHWAR MAHADEV MANDIR, TEMPLES IN SURAT
Galteshwar Mahadev Mandir, is a prominent temple of Shiv also called as Mahadev, the ultimate God. This temple is built in the recent past and is a piece of architecture, art, sculpture, spirituality, meditation and religious importance.
Galteshwar is a village near by the outskirts of Surat. It is located around 15km from Kamrej, which is a major bus halt on the national highway between Mumbai-Vadodara, further going to Ahmedabad, Jaipur or Delhi. When you go from Kamrej towards Galteshwar, you will go through villages with lot of greenery, farming and simple living. The smell of the mud, sugarcane will make you soon recall what a beautiful countryside we have in India. Not so far from the fastest growing city, you will experience the beauty of nature and be close to mother Earth.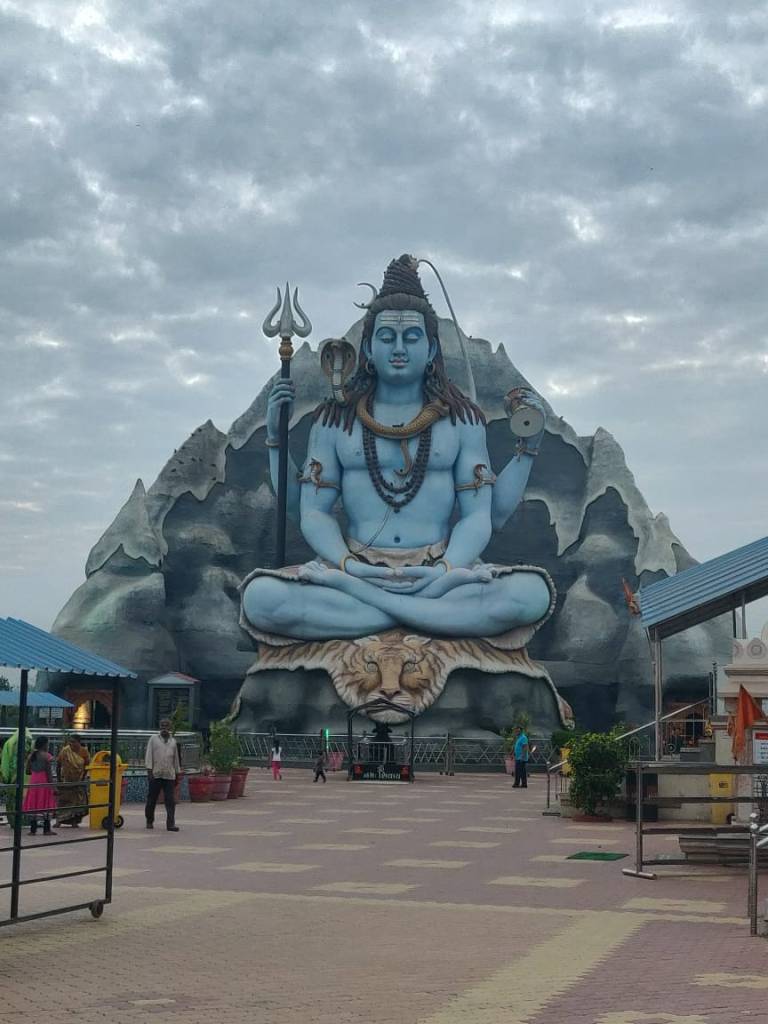 As wonderful and heartwarming the journey to Mahadev Mandir will be, once you reach the premises of the temple, you will realise another beautiful aspect of India, divinity, spirituality and magnificent impact on the lifes of India. You can see Mahadev (Shiv) from far glazing in blue and attracting you to be in close contact to the divinity. You can sense an auro of sacred place and instantly connect with the surrounding.
SHIV, IN MEDIDATION
This is one of the simplest of all the temples you may find. As the meditating Shiv, is deeply engrossed within himself, not disturbed by the constant hustle of the people who are only interested in taking selfies with him, never bothered about the importance of sitting quietly for once. As you will realise that the art has been dealt with precision and care. If you observe the Shiv, you will find that intricate details of meditation, being one with self and the sense of awakening being in that state for a long time, is very well projected out from magical blue and his presence is instantly felt.
To become one with Him and experience divinity, you don't necessarily have to travel to the Mount Kailash, you can come to Galteshwar and keep your phone/camera aside. Just look at the magistic beauty of Shiv in meditation, listen to the musical resonance of the giant bell and take a dip in Tapi river only to feel clean within and happy about the entire experience. Walk home with a new sense of reawakening.
JYOTIRLING
The Shiv is built over a man-made replica of Kailash parvat(hills), underneath with neatly crafted cave, takes you through a walk of replicas of Jyotirling in India. Jyotirling are the 12 prominent place of worship of Lord Shiv in India. This places of worship are spread across various states in India. Inside the cave, you will find the history of each place as well as the replica of Shiv Ling (the marvelous symbolic representation of Shiv). One particular Ling of Kailash Mansarovar (Amarnath) is very well replicated like you walk through the mountains of Himalayas and look at the Ling made from ice. All other replicas are also very well demonstrated.
TAPI RIVER
Once you walk through the cave, you come out with a feeling of reaching various places in India. As you look behind you the tall structure of Shiv, gigantic and shining in every sense, you cannot stop feeling mesmerized by the divinity in himself. As it is located near Tapi River, you can see Sunrise and Sunset alongside this place. It adds to the experience of this temple.
GIANT BELL
As you walk around you will find a huge temple bell, which creates a resonating sound that lasts for around a minute, when you ring it. The resonance seems to wash off all your negativity and disturbance in your mind, if only you let that music reach your heart. There are other temples with some history around. You can visit each one of them.
DIP IN TAPI RIVER
Near by the bell, there is a walk way down towards the Tapi River for the devotees to take a bath in the river. However it seems to be closed for some renovation. Once open, this place is considered to be of equal importance as taking a bath in of the Triveni Sangam (meeting of rivers).
HOW TO REACH
This place is located in a village, a bit secluded from the city so you must plan your travel before hand. The best experience would be if you take personal vehicle or book a cab/auto for entire journey. Also preferably go with the sunlight times that is 8am-6pm. After sunset this place and the route becomes too dark, however roads are in good condition.
If you take bus till Kamrej BRTS, try to take an auto on the other side of Highway to the temple and return. It may cost you anywhere between 150-200 Rs. If you can find a direct bus that runs from Surat Bus Stand to Galteshwar, then nothing like it but it will be recommended to check your return plan before you start.
If you drive, then follow the below route to the location.
SARTHANA NATURE PARK AND ZOO, SURAT
Sarthana Nature Park and Zoo is located in Surat and one of the top attractions here. It is owned and managed by the local government body here, Surat Municipal Corporation.
Spread in about 81 acres, Sarthana Zoo was established in 1984 and since then slowly grown to be one of the favorite picnic spots in the city for the children as well as adults. Towards the north of the zoo is the famous Tapi River of Surat and towards the south, where the entrance gate of the Zoo is located, is the Surat-Kamrej Road. This Nature Park and Zoo, is well connected with the city via Road.
This zoo has Lion, Tigers, Himalayan Bears, Otters, Hippopotamus, Emu and other animals like Fox. Many animals are brought here for breeding, growth, shelter and protection for short and long tenures and treated until they are well. Bird section of the zoo is very well equipped with various kind of parrots, owl, peacocks and some foreign birds.
Special Attraction :
Otters have been breeded in this zoo. There are about 10 otters which seem to be enjoying the crowd visiting them. They showcase some skills often to get some food from the visitors. It is suggested to not feed any animals in the zoo.
The Royal Bengal Tiger here seems to be enjoying its walk during the early morning hours and in the evening. Often the tiger is seen taking strolls around the enclosure and the sight is worth a penny. Do not miss a chance to see, wait until you get to see it.
Timings and Fees :
Zoo is open from Tuesdays to Sunday during 10 AM to 5 PM. It remains closed on Monday.
Entry fees for children below 12 years is 20 Rs and for adults its 30 Rs. Foreigners entry fees is 200 Rs for children and 300 Rs for adults. Camera is allowed with some fees. Still camera will cost you around 50 Rs, while video shooting with general cameras will cost you 150 Rs. For any kind of filming, shooting or commerical videography, prior permission needs to be taken along with a charge of 5000 Rs.
Visit during early hours and evenings. It will take you around 2 to 3 hours depending on how much time you spend at each enclosure. Animals are often sleeping during the noon, which may spoil your experience. Carry a set of binoculars for a richer experience.
There is a canteen at the end of the Zoo, towards the exit. Snacks, Packaged Food, Icecream and Cold-Drinks are available. Local snack Bungada-Bataka is eaten often.
Do not feed any animals or birds in the zoo. Do not destroy any property of the zoo. Please consider this place as home for the animals and do not disturb them with loud noises or any other ways. Enjoy the site as a learning experience and getting close to nature.
Zoo is being extended with new amenities like pond and boating.
GOPI TALAV | ATTRACTIONS IN SURAT
Gopi Talav, historical heritage site of Surat , which had lost it's glory and grandeur, is now redeveloped into a 'Lake Garden' with theme zones by Surat Munical Corporation.
History :
Gopi Talav, the water reservoir was constructed around 1510 A.D. by Malik Gopi, who was a leading merchant of surat and cheif vazir of Gujarat Sultanate. It was constructed after the Chalukya style of architecture which flourised during the Solanki Period.
Having a circumference of about one mile (1.5 km) with sixteen sides and sixteen angles. It had steps on each side leading to the surface of water. In the middle of the lake was a small island known as Sakasthala. Gopi Talav was a source of water supply for the population till 1673 A.D. It had a device known as Nagadhara and three Culverts to collect fresh water during monsoon. However with passage of time, the reservoir got totally silted with mud that from 18th century onwards it went out of use.
In 2012, the lake was renovated by Surat Municipal Corporation and the area surrounding it was redeveloped as a recreational facility.
It has various adventures like Zip-line, Boating, Bumper Car, Paintball, Bull rides, Mini Train and Play-area for kids.
There is a step well which is called as chatusmukhi vav, as the step has entrance from 4 sides and is symmetrical from all sides.
The park is open from 10am to 10pm, but the best time to visit would be during the evening after 4pm.
The entry fee is 20 Rs for adults and 10 Rs for kids. There is a dedicated parking facility available near the entrance, which costs 10 Rs for 2 wheelers and 20 Rs for 4 wheelers.
A source of water supply in 16th century, now a prominent tourist attraction.
There are some submersible platforms in the premises which seems to be of a interesting experience during the monsoon.
Outside food is strictly not allowed. There is a canteen within which serves snacks, Chinese items and some sandwiches, which are economical.
here are small seating areas and little shades of greenery alongwith a large amphitheater which would be good gathering place in the evening.
It is a must visit if you are in Surat for a day or two. It's a good hangout in the evening on a festival season, however you can expect some crowd.
If you are coming by Bus or Auto, then you need to come to Navsari Bazar. The entrance gate is on Kotsafil main road. Following buses run on this route – 116, 126, 153