TENNIS IS MORE THAN JUST SPORTS, IT'S A RELIGION
Tennis, lawn tennis is one of the top grossing global sports with Grand Slams, WTA tours, ATP tours, Challenger tours and friendly matches. Tennis is played between two players in singles match and four players in doubles match. It could be men's single, women's single, men's doubles, women's doubles or mixed doubles. But that's just not all. There is more to it than meets the eye.
Tennis is a saga. There are million dollars prize money, world tours, tournaments in many countries, schedules, sponsors, umpires, ball boys, referees and fans across the world. But is tennis just about the game, sports, winning and losing, finals, tickets, tours, locations or money. I believe tennis is much more than just a game, it is a religion, like no other.
Tennis teaches you discipline. Sports often is not about the games, rounds or matches. It is about the number of hours you have put in practice and the various strategies and tactics that you have learnt. Tennis is an individual sports. It is about standing tall all through the game from the start till the end. At any moment if you slip, rest, loose focus or get carried away, then the tables can turn for you.
Tennis teaches you dedication. It is about getting up in the morning and training for hours. It is about perfecting your serve, your return, backhand, slice or your volley. It is about practicing to approaching the net or your movement across the court. You must strengthen your muscles, your legs, your biceps, your mind and your body. You cannot be lazy or late.
You must train, train and train only to become so good at it, that when you get into the court, you are most of the time feeling a natural flow. Otherwise you may win a match but you will not win a tournament. You may be a good player but you might not become a champion. As they say a champion is who has trained hard when it felt it cannot be done any more.
Tennis teaches you resilience.
Tennis teaches you simplicity.
Tennis teaches you about respect, honor and dignity.
Tennis is timeless. People from all walks of life and other sports come to witness sporting events greatest moments in the finals of Grand Slams. It is about witness history in the making. It is as if you are looking at the finest qualities of human when put through the toughest challenge. It takes the seniors to their era and make them relieve those moments. It ignites the spirit of other sportsmen. It inspires the next generation to become not just a great glorified champion but a true honorable sportsman who will live in the memories of people in the times to come. It is about becoming Immortal.
Tennis messes with your mind, it haunts you and it makes you want to scream out loud but at the same time it takes you through the silence of a river in plains, deep forests and dark nights to awaken your inner spirits about life, passion, fighting spirit, grit, compassion and humanity. It takes you to the heights of a mountain and then throws you down to the depths of oceans, teaching you to be strong and humble at the same time.
Tennis is life and life is tennis. All the noise, hate, love, pressure, challenges, race towards tournaments, matches, rivals, competitors, events and controversies create heaviness in your heart and mind. Your family comes to your rescue. Tennis families are one of the best families in the world. Your coach, your physician, your friends are your strength in good times and bad times.
Tennis is one man show, individual sport. You are alone in the court and it teaches about sustainability, independence and self-work. It makes you go through the tough rides in some of the greatest moments in tennis history and as you are making them, you have to hold your nerves and put on a show.
Tennis turns young boys into men. Tennis teaches you to drink through the pain of lose and rising up from failures. It teaches you to gulp through your lose in face and stand up on the podium to speak about it. It teaches you to treat both the lose and victory alike. It is like the verse from Rudyard Kipling's poem "If".
If you can meet with Triumph and Disaster
And treat those two impostors just the same;

Rudyard Kipling
Tennis is about sportsmanship and more. Tennis teaches you to be good sports person, a good partner, a good parent, a good friend, a good child and overall a good human being. It teaches you to be good friends. Tennis is about becoming the better version of yourself. Tennis teaches you about life, whether you a player, commentator or spectator. It takes you on a journey of life. It turns young boys into young men, who inspire generations of human current and past likewise. Tennis is about sportsmanship.
If good life is about living to be a good human and spreading love, care, positivity around the world. Then Tennis is one such part of life that teaches you to live it completely.
You may also Read…
DECATHLON SURAT | SPORTS AND FITNESS HUB
If you are into fitness, sports and healthy lifestyle then Decathlon is a hub for you in Surat.
Decathlon is one stop store for all your fitness and sports requirements. Whether you are a beginner trying to set in a healthy and fit lifestyle or you are professional athlete, Decathlon has something for everyone.
From sports like Cricket, Badminton, Tennis and adventure like Cycling, Hiking, Camping and others, you will find each and everything you would need in every category.
LOCATION
Decathlon is located near Surat Airport on Dumas Road. It is a quite some ride to reach there if you are coming from within the city, but you will feel refreshed after your visit.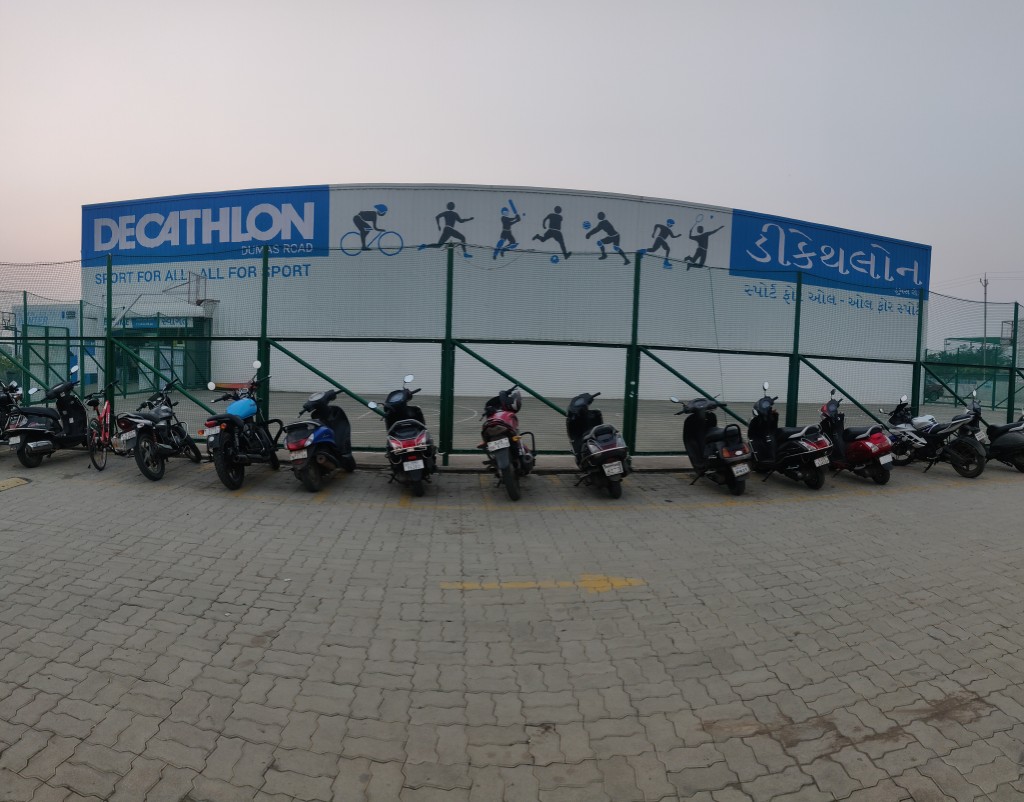 VISIT ON RETURN TRIP FROM DUMAS BEACH
You can combine visit to Decathlon with trip to Dumas beach. Early morning you can go to the beach and while returning in evening, you can visit the store and buy your kit for upgrading your fitness regime.
If you are into cycling then you can take your bicycle to Decathlon for a professional check and service of your bicycle. Also you will find executives providing you inputs on every material you are planning to buy. In each category you can buy from small items like hand gloves to large items like camping tents.