The Surat Diaries – Everything about Surat, Gujarat, India
History of Surat, dates back to around 16th century during those times it was known as Suryapur. The historic monuments like Surat Fort and Gopi Talav, tell the story of Surat along with the notes by some of the travellers like Barbosa, who noted the proceedings of Sultan of Gujarat in his travel notes. However difficult it may be to trace the exact details of the history back then, this monuments definitely speak to us in the language only a traveller can understand.
CHRONOLOGICAL ORDER
Attraction
Year
Synopsis
Gopi Talav
1510
Gopi Talav was built in around 1510 by Malik Gopi, who was an affluent merchant and governor of Surat
during the Mughal Empire.
Surat Castle
1546
The construction of the castle was completed
in 1546 by Safi Agha, under the ruling of
Ahmedabad king Sultan Mahmood III
Mughal Sarai
1644
It was built during the period of
Mugal Emperor Shah Jahan
in the year 1644 A.D. and was popularly
known as 'Mugal Sarai' (Travellers Inn).
Andrew's Library
1850
Andrew's Library was opened on 1st July 1850
Narmad House
1866
Saraswati Mandir was built by Narmad in 1866,
renamed as Narmad House after the restoration
work by SMC
Gandhi Bagh
1870
Rani Baug, presently Gandhi Baug
inaugurated by Municipality in 1870
Clock Tower
1870
Clock Tower was erected in 1870
Hope Bridge
1877
Inauguration of Hope Bridge – 1877
HERITAGE CIRCUIT MAP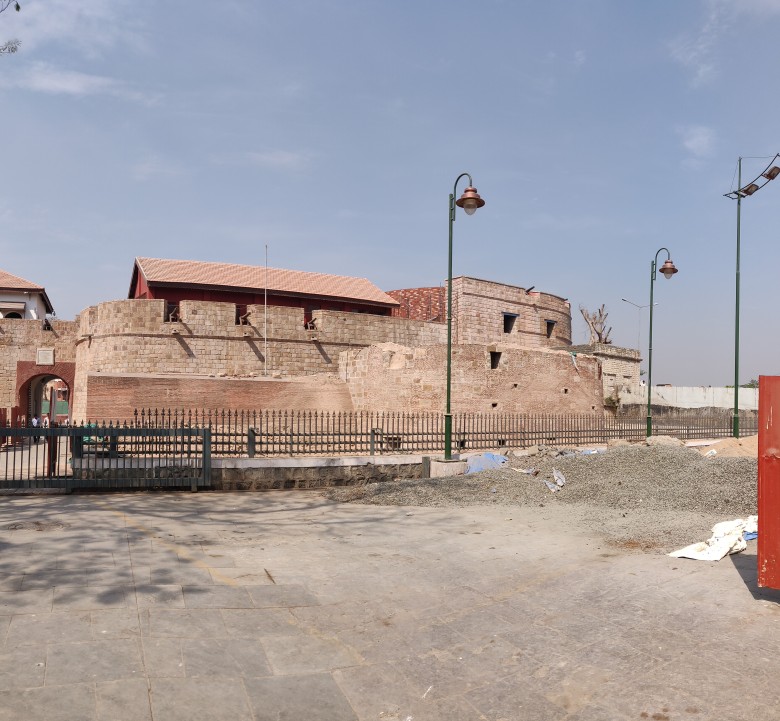 Clock Tower
Clock Tower is on the Station-Chowk main road and will be one of the first things you will be noticing when you go around on this route.

It was constructed in 1871 by Khan Bahadoor Burjorjee Merwanjee Fraser at the cost of Rs 14000 in the memory of his father Merwanjee Hormusjee Fraser and for the convenience of the inhabitants of Surat.
Timings

Clock Tower is on the main road, opened to be viewed from the outside, anytime.

Fees
Notes

Insides of the Tower is currently not opened for public.
Narmad House
Narmad Dave was a poet, philosopher, writer, social reformer in Surat. He composed, Jai Jai Garvi Gujarat, which is the state song of Gujarat.
He built Saraswati Mandir in 1866.
It got lost in the time, later renovated by SMC.
Timings

8 am to 8 pm on regular days.
On Mondays and public holidays – 8 am to 2 pm

Fees
Notes

It is a heritage site as well as library, maintain decorum of the place.
Mughal Sarai
The Building which is used at present as an office complex by Surat Municipal Corporation (SMC) is one of the ancient monuments of Surat city and was built originally as a 'Sarai' or Musafarkhana (travellers' inn).

It was built during the period of Mugal Emperor Shah Jahan in the year 1644 A.D. and was popularly known as 'Mugal Sarai'.
Since 1867 the building was occupied by the present corporation.
Timings

Suggested timings : 10 am to 6 pm

Fees

Free. This is not just another tourist attraction. So please follow the norms of place.

Notes

It is administrative office of SMC. It is not open for public exploration. You can walk around and look at the beauty of this place.
Andrew's Library
Library was established on 1st July 1850 and named after Andrew.

This library got destroyed during the floods in 2005.
Timings

Tuesday to Saturday  9am to 1pm & 3pm to 7pm
Sunday 9am to 1pm. Library is closed on Monday.

Fees
Notes

It is only open to see from outside. Insides not open for public exploration, yet you can enjoy the mesmerizing architecture from the outside.
Surat Castle
Surat Fortwas built in 1546 by Safi Agha, who was appointed by Ahmedabad king Sultan Mahmood-III. This fort was built for protection against the attack of constant invaders.

The fort is now restorted by SMC and the new makeover look is called as Surat Castle. The beauty of this place is mesmerizing.
Timings

Tuesday to Sunday 10:00 am to 06:00 pm
Fort remains closed on Monday and major holidays.

Ticket Fees

3 Years to 16 Years       Rs.20/-
17 Years to 60 Years     Rs.40/-
Above 60 Years             Rs.20/-
Photography                 Rs.20/-
Videography                 Rs.100/-

Notes

Ticket selling is open only till 4:30 pm
Hope Bridge – Heritage Walkway
Hope Bridge was built on Tapi river by Sir Theodre Hope, when he was district collector and magistrate.

The bridge's foundation was laid in 1874 and it was completed in 1877.
The bridge was dismantled in 2015 and replaced by new bridge keeping the old design of Hope Bridge intact.
Timings

Suggested Timings : Sunrise – Sunset.

Fees
Notes

It is a public place. Do not litter. Enjoy the view of Tapi River and birds.
Gandhi Baug (Gandhi Garden)
This is a public garden built in the year 1870.

Currently it is managed by SMC. Just beside this garden, you can enjoy shopping in Sunday Fair, which is open only on Sundays.
Timings

Suggested Timings : 6am to 9pm.

Fees
Notes

It is a public place. Do not litter.
Gopi Talav
Gopi Talav, the water reservoir was constructed around 1510 A.D. by Malik Gopi, who was a leading merchant of surat and cheif vazir of Gujarat Sultanate. Know More.

Gopi Talav was a source of water supply for the population till 1673 A.D. Later lost it's place in time. In 2015, it was renovated by Surat Municipal Corporation as "Lake Garden".
Timings

10:00 am to 10:00 pm. Suggested to visit in evenings.

Ticket Fees

Kids        Rs.10/-
Adults Rs.20/-
Parking Rs 10 for 2 wheelers, 20 for 4 wheelers.

Notes

It is crowded on weekends and festive seasons.
HERITAGE CIRCUIT ON GOOGLE MAPS
NARMAD HOUSE | SURAT HERITAGE SITE
Narmad Dave was a poet, philosopher, writer, social reformer and one of the first of his kind in Surat and Gujarat. He is prominently called as Kavi Narmad, for his spectacular work of composition – Jai Jai Garvi Gujarat – a poem, later adapted as the state song of Gujarat.
Narmad was born in Surat and later moved to Bombay. When he came back to Surat in the mid 1800s, at around the same time he started working as a teacher, he composed many of his works. He built Saraswati Mandir in 1866.
Surat Municipal Corporation, took over the task of renovating this heritage site in 2015, as with other projects it has undertaken and shaped into a beautiful museum. Located in the centre of city, inside the residential colonies, this place is very quite and very appropriate for someone in search of inspiration for arts, literature, history or just peace.
The museum is very simple, clean and serene place, with 2 floors. The ground floor houses Narmad's bust with details of his birth and death date. It also contains various daily newspapers in English, Hindi and Gujarati. There is a sitting area for public to sit and rejoice the facility. Various weekly and monthly magazines are also available for reading. On the 2nd floor, there are books and novels, written by Narmad and historic sequencing of his life, some pictures and books.
Often a traveller goes around the world, to find about who he is, but sometimes, it is right within the city, where you can find rich history shaped and often visiting such places, you envision the journey of a time traveller and meet the people and culture of past, with new eyes. Narmad House is one such place. If you want to experience the beauty of this place, please try to spend some quite 30 minutes without wondering about another bucket list on your instagram profile, you will cherish the experience.
Timings : 8 am to 8 pm on regular days.
( On Mondays and public holidays – 8 am to 2 pm)
HOPE BRIDGE | HERITAGE WALKWAY IN SURAT, INDIA
Surat is surrounded by Tapi river as the warm hug of mother nature. Sometimes it has shown anger to it's kid and many times enormous love and care. Part of Surat City lies on the other side of river and hence the need for having a bridge keeps coming up frequently. Today we have more than double digits bridge across Tapi River, but one of the earlier bridges "The Hope Bridge" was build during the 1870s in British era.
Hope Bridge was built on Tapi river by Sir Theodre Hope, when he was district collector and magistrate. The bridge's foundation was laid in 1874 and it was completed in 1877. The bridge was dismantled in 2015 and replaced by new bridge keeping the old design of Hope Bridge intact.
IMAGE GALLERY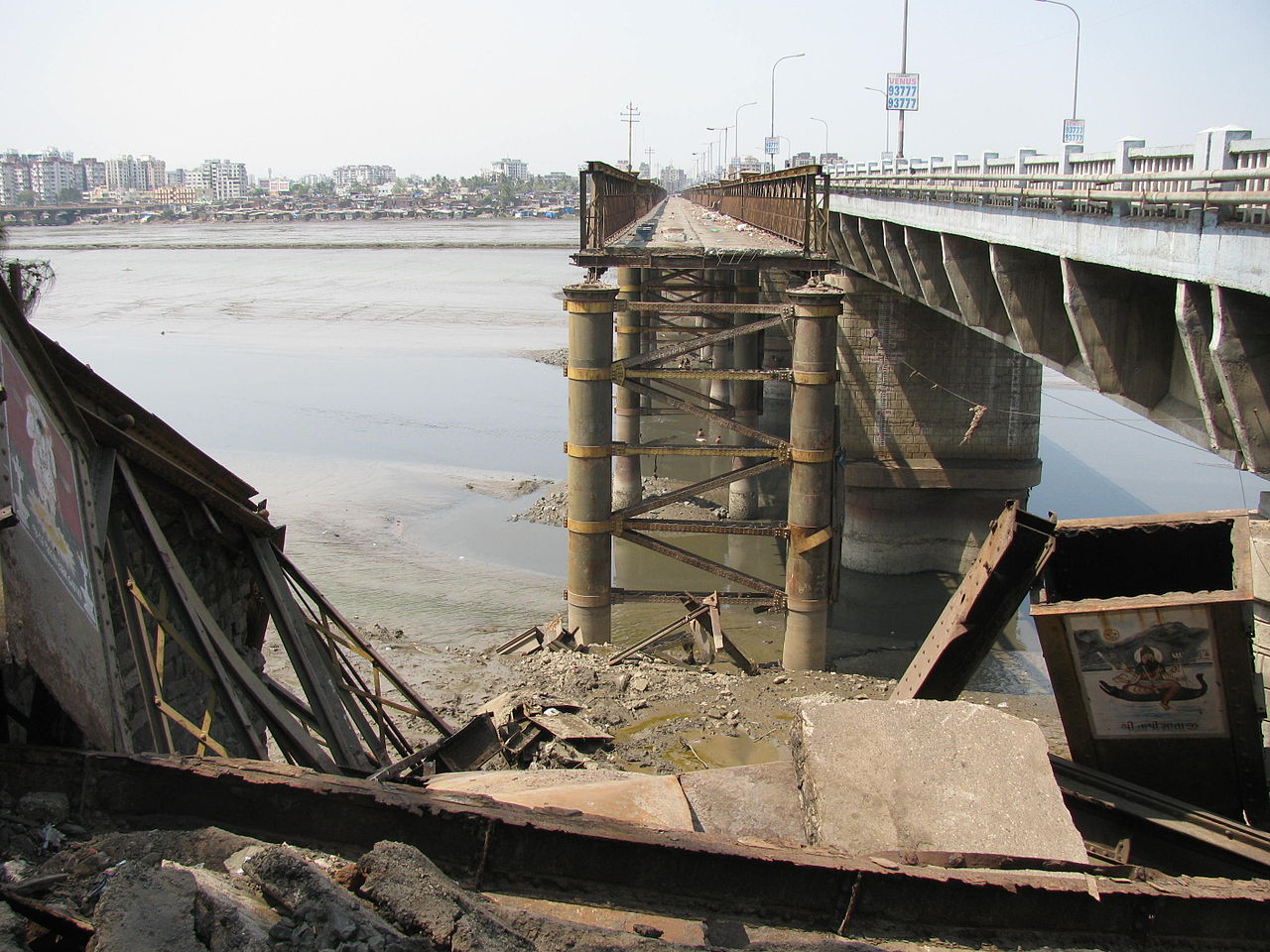 Hope Bridge connects Adajan & Rander areas to Chowk area. This bridge was heavily used back then. Since a decade or so, the bridge got damaged to an extent it was unviable for public use. Hence, Surat Municipal Corporation took over the restoration and rebuilding of new bridge similar in look to the old one with more design elements. The new Heritage Walkway bridge was open to public on 3rd April, 2015. Since then this bridge has become a favorite spot for nature lovers and people are often seen enjoying the beauty of Tapi River, birds and sunset during the evenings.
Attached to this bridge, there is a fully functional Nehru bridge, which currently connects Rander-Chowk route. Surat Castle and Andrew's Library are just few 100m away from this bridge.
TAPI RIVER
Tapi River is one the 10 longest rivers, stretching at 724km starting in central India and flowing towards the west into Gulf of Khambhat.
Tapi River also called as Tapati, daughter of Sun God, starts it journey in Satpura range, in Multai and then flows through parts of Madhya Pradesh, Maharashtra then finally going through Gujarat. It passes through Dhuliya, Burhanpur, Bhusawal and Surat.
Around 8 dams have been constructed over Tapi River, out of which Ukai Dam is prominent and houses a large reservoir as well as a Power Plant.
Tapi River is one of the few Rivers in India which flow from East to West, while all the other rivers flow from West to East. Other rivers like Narmada, Mahi and Sabarmati also flow from East to West.
Tapi River flows right into the city of Surat and then finally reaches it's end point Magdalla-Hazira where it merges with Arabian Sea. Near by Dumas Beach is an attraction point for many tourists and locals.
Tapi River is home to many migratory birds like Flamingoes, Seagulls and other birds like Cranes. Many small mangrooves can be spotted during it's flow in Surat.
Many temples are built near river bed in the villages and cities located in it's path. Surat Fort was built during the British rule in India is located on River Tapi.
Tapi River provides fresh drinking water to the citizens of Surat. Many water treatment plants have been built by Surat Municipal Corporation (SMC) which then send fresh water to Surat and near by villages using many Water Pumping Stations. There are many canals built in and out of Tapi River, prominent being the Ukai-Kakrapar canal which stretches across the Surat district.
Tapi River has long history of being flooded on many occasions in several decades and has caused lost of damage to Surat multiple times. Flood of August 2006 is marked as of the worst floods in history of the city.
Bridges over Tapi River in Surat
Savjibhai Korat Bridge
Kapodra-Utran Bridge
Amroli Bridge
Dabholi-Jahangirpura Bridge
Chandrasekhar Azad Bridge
Nehru Bridge
Hope Bridge
Makkai Pool (Bridge)
Sardar Bridge
Pandit Deendayal Upadhyay Cable Stayed Bridge
Magdalla ONGC Bridge
CINEMAS IN SURAT | THEATRES IN SURAT | ENTERTAINMENT IN SURAT
Cinemas in Surat, have grown in huge numbers in the last 2 years. Surat, had always been celebrating the talkies culture, where it started of with small single screen talkies, which were then grown into theatres, with infrastructure aligned to suit the growing culture. In the last decade, the multiplex culture, has taken over the talkies and we see the same impact in Surat.
Currently many major multiplex chains like PVR, Inox, Cinemax, Cinepolis have come up around Dumas Road, Piplod area. Other areas are slowly adopting to the movie going craze in multiplexes. Also to keep up with the competition old theatres like Rupam cinemas are reshaping their infrastructure, facilities and screens.
PVR : RahulRaj Mall, Dumas Road
Inox : VR Mall, Dumas Road
Inox : Reliance Mall, Udhana Darwaza
Inox : DR World, Aiemata Road
Inox : Raj Imperial, Varachha
Cinemax : Iris Mall, Dumas Road, Surat
Cinepolis : Imperial Square Mall, Adajan, Surat
Valentine Multiplex (Dolby Atmos) : Dumas Road, Opp Iris Mall
City Plus Multiplex : Dumas Road
Popcorn – The Grand Bhagwati : Dumas Road
Black Jack Dolby Atmos : Ghod Dod Road, Near Rangila Park
Rajhans Multiplex : Adajan, Surat
Harmony Cinema Dolby Atmos : Bhatar Char Rasta
Ratan Cinema : Salabatpura, Surat
Rupam Cinema : Salabatpura, Surat
Rupali Cinema : Rander Road, Surat
Sapna Cinema : Amboli Karej, Surat
Time Cinema : Galaxy Circle Pal, Surat
Wonder Prime Cinema : Dindoli, Surat
KD Laxmi Multiplex : Kim, Surat
Maadhuram Multiplex : Dindoli, Surat
SNAKE CATCHER | SNAKE RESCUE IN SURAT
Today early morning cleaning staff was going about the errand in the society as usual, when they spotted a snake in the compound. They called in the Supervisor and informed the community via online message to avoid going towards the compound corner. They started making noise when I went to see.
Snake had made it's way into the compound via the trees overhanging on the wall. In the backyard there are many trees and a waterhole. Snake used to roam about in that place usually in monsoon. They tried to contact anyone who would help rescue the snake. After about 10-15 minutes they didn't seem to be able to find any way out.
I stepped in to avoid anyone taking wrong action against the snake. I made some calls to the animal rescue teams and one of them told they will find someone in our area and update. After 10 minutes I got a call from one of the nature volunteer and he asked for address. They reached in about 15 minutes.
The snake had hidden behind some steel planks near the wall. We waited around to see if the snake didn't escape anywhere. Once they came in, they asked for the person who saw it. Asked for the size and colour. First plank was removed and nothing seen. People were doubting if it had left from somewhere. After removing the second one, snake jumped right out it and started to crawl ahead.
One of the volunteer just tried to hold it but it went pass by. Another volunteer held it from the tail and slowly started to let it flow. Within a minute he got good control on it and it was moving freely. Meanwhile they asked for pillow cover and one of the occupant provided them. They let the snake slip into the pillow cover and tied it properly. They just left after that.
---
Few people resort to hurting the snake, which is actually not required.
Whenever you spot a snake or someone around you spots any snake, try to remain calm and inform animal rescue team immediately. Do not hurt or overcrowd the place to avoid any accident. Provide all details clearly about the snake, location and keep a watch on the snake.
To call Snake rescue team in Surat try below organization as they are doing commendable work :
---
Prayas Team Environment Charitable Trust
"C-110/Commercial Complex",
Udhna Udyognagar Sangh, Central Road No. 10, Opposite Bank of Baroda,
"Udhna", Surat, Gujarat, INDIA.
Pincode: 394210
Phone – 982511908
SURAT – THE DIAMOND CITY, TEXTILE CITY, GREEN CITY
Welcome to the City of Gardens so rightly called Surat. If you are someone on a tour to Surat then you will find this site to be very useful. Even if you are a Surti or someone who is familiar with a city, you will find many suprising stories and places you weren't aware of.
You can find all important places and contacts listed in the posts below.
If you are a foodie then as surtilalas are called "mojila" and jalsa manas, you will find variety of foods from local made snacks to global franchises.
Surat Municipal Corporation takes care of the city infrastructure, development, cleanliness and maintenance. SMC is fully operational in construction and maintenance of public gardens, libraries, fly over bridges, community halls and many others.
We gather details about the upcoming events in the city and publish the happenings of such events.
Daily news sections provides you an update about the day to day happenings in the city from all walks of life, including education, cleanliness, politics, city development, events, incidents and so on.
If you like our work, please share with your friends and family on social media platforms.